Any self-respecting writer will have a library of rejected manuscripts (I

remember how I

cried on my first), buried inside cobweb gathering tombs of laptop hard drives, never to see the light of day and usually for a good reason.
I am not one of those self-respecting writers.
So here's an attempt at Art Review

-

worthy critcism from the 2011 archives. Frank feedback in the the comments box below the post would be most welcomed. The sharing icons are in grey above each post

, which I still haven't figured out how to change...
I've written my fair share of embrassing, self-indulgent, juvenile rubbish, but reflection's the only way to learn right?
Get in touch
Postmodernism: Style and Subversion, 1970-1990 at the V&A
(24th September 2011- 8th January 2012)
i

-D, no 28. The Art Issue, August 1985, photograph by Nick Knight, featuring Lizzy Tear.V&A
Postmodernism: Style and Subversion is one of the VA's most exciting projects to date. Divided into 3 sections- Architecture, Style and Money, it examines radical ideas that defined the movement between 1970- 1990. Its proliferation is chronicled through stimulating exhibits- from Architecture, Art and Design to Film, Music and Fashion. It's ambitious to showcase a hotly contested movement, one which we are arguably still living in. I fell slept through Postmodernism lectures at university, so I was curious to understand what the fuss was about.
To some, it might be synonymous with Andy Warhol soup cans and Madonna's fashion choices- but few are aware of its anti-modernist roots in architecture. Postmodernism is portrayed as a phoenix rising from the ashes of modernism in the 1970s, a liberation from its restrictive orthodoxies of function, clarity and purity. A full-scale replica of Hans Hollein's façade (1980) from the Venice Biennale is one of the most theatrical exhibits. Each pillar samples a period in the history of architecture, from the Garden of Eden, classical Greek ruins to industrialist Art Deco. The pastiche is deliberate and unabashedly artificial (think Las Vegas novelty hotels); playfully cutting-up-and-pasting memorable fragments from the past.
The bricologe, cut-and-paste ethos was not limited to styles and ideas. It brought unconventional materials and different processes together to create a new synergy. This is evident in Paul Astbury's ceramic sculpture, Box(1980). At first glance it's an unremarkable, tatty white box hastily assembled with discarded scraps. The broken fragments are actually fired ceramic tiles, individually fixed with screws to the cardboard box, an unconventional mosaic tessellation. These are accented with strokes of custom blue and brown tinted araldite, sellotape, paint and felt tip markers. The complex layers and strategic placement of colours makes one wonder how much of its appearance is coincidental or deliberate. Personally, excavated remnants of demolished Modernist architecture come to mind, eschewing progress; suggesting the present is merely an amalgam of antiquity. It's an intriguing, tactile synthesis of everyday materials; refreshingly contemporary even for today.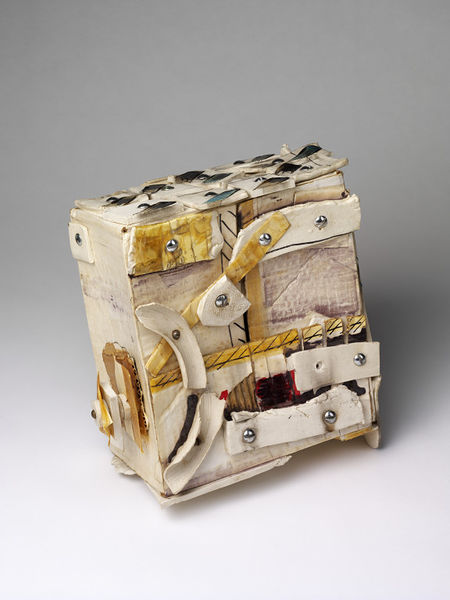 Box, 'Untitled', Paul Astbury, 1980.
V&A
The music and performance (style) section is not to be missed. The set (known as 'The Club') recreates the electric atmosphere of an underground fetish night club from 1980s, complete with coloured spotlights, elevated stages and wire fences. The kind your parents would not approve of. David Bowie, Grace Jones and other 80s pop videos repeat (annoyingly) on huge screens- charting MTV's pivotal role of channelling postmodernism to the mainstream audience of style conscious youths. David Byrne of Talking Heads' Big Suit(1983) and Grace Jones' cubist sculptural maternity dress (made of cardboard and felt in 1979) are just some of the zany outfits on display. Colourful, exaggerated appearances conveyed dissident, self-referential personas critical to these artists' successes.
The most extreme style statements are perhaps the male and female ballet costumes designed by Leigh Bowery for the Michael Clark Company's production, Because We Must(1987). Beige balaclava-attached corset bodices are covered in exquisite crewelwork, depicting pink, orange, gold and green sequined flowers- reinterpreting an embroidery technique historically used for curtains. Complete with pink lycra sequinned leggings, I imagine it would make Lady Gaga blush. The mysteriously covered faces (with just 3 holes for sight and respiration) and sexually provocative corset-bodies fetishize domination and submission. Epitomising fluid postmodern gender identities, they bring a body-conscious, androgynous 'otherness' Bowery's work was famous for.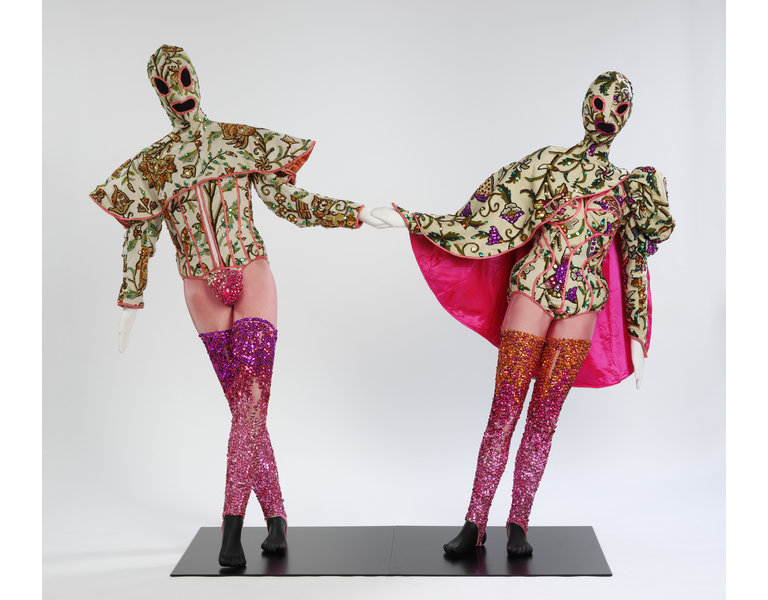 Dance c

ostumes for performance 'Because We Must', designed by Leigh Bowery, 1987. V&A
The last section explores the impact of money on postmodernism during the economic and consumer excesses of the 1980s to its demise in 1990. The luxury products of 'design editing' are enticing, a precursor to the current trend for artist/designer/high street collaborations. It marks the change when designers happily merchandised their services to mass market brands like Disney and Alessi. An iconic example is architect Michael Graves' Mickey Mouse Gourmet Collection(1991). A tea-set with mouse-shaped handles and whistling Mickey spout cover reflect a humorous, ironic self regard that defined pop culture. One can't help but lament a 'selling out' for fame and profit, relinquishing the creative freedom postmodernists fought for in the first place. Money was power, but it also tainted postmodernism with a 'vulgar decadence' that still niggles, whether we admit or not.
For visitors unfamiliar with postmodernism, this is a dynamic introduction to its many 'broken facets'. The ideas radical at the time shaped and continue to influence the world we live in today – from parody, pluralism, bricolage to a return to kitsch and nostalgia. There are too many objects for one to thoroughly evaluate; leaving many questions not fully answered (Is Postmodernism dead? Does it even matter?). However, like a time-travelling rollercoaster of unsettling, sensory thrills, it's more fun to do a David Byrne and 'Stop talking sense'.